Client:   Avalon Bay Communities GC / Pyatok Architects
Location:  325 Octavia Street & 400 Laguna Street,  San Francisco, CA

 Square Footage: 37,130

Scope:  This project was a new ground-up construction of 2 – 5 Story Apartment buildings.  The building utilized wood frame construction over a podium slab.  The roof decks had solar panel attachments that posed design difficulties for cricketing with tapered poly-iso roof insulation.  Cell-Crete Corporation was able to design a sloped Lightweight Insulating Concrete system that provided positive sloping around the multiple mechanical units.
The system provided a top-down fire resistant barrier in the case of combustion of any of the components on the roof.  After installation of
the LWIC system, a layer of leak detection material and a single plyroof membrane was adhered to the top of the LWIC system and a pedestal paver system was installed for use as a walking surface.   A recreation patio featuring an outdoor bar, lounge chairs, bbq grills, televisions and natural gas line fed patio heaters was installed for the residents of the buildings on the roof.   By utilizing Cell-Crete Corporation to assist in the design, layout and installation of the LWIC roof system, Avalon Bay communities saved time on their schedule and money in their budget.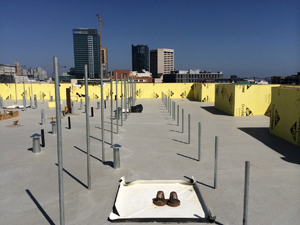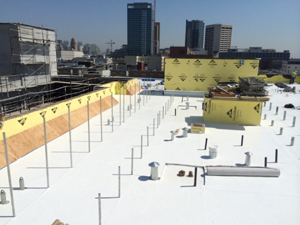 Client:   Cahill Contractors GC / BDE Architecture

Location:  525 Middlefield, Redwood City, CA

Square Footage: 62,240

Scope:  This project was a new ground-up construction of 3 towers on one site.  The roof decks needed to achieve an Average R-30 insulation rating, while also achieving a 2% slope to all drains.  A TPO roof membrane was installed shortly after our system installation.   By utilizing Cell-Crete Corporation to install a Lightweight Insulating Concrete Roof System in lieu of a tapered poly-iso cyanurate roof insulation system, the General Contractor was able to accelerate the project schedule and the owners were able to save a significant amount of money. 

Kapor Center for Social Impact

Client: Oliver and Company GC/ Fougeron Architecture
Location: Corner of Broadway and Franklin, Oakland CA

Square Footage: 3,465
Scope: This project was a complete retrofit of multiple addresses into one single facility. The existing upper roof deck was repurposed into an exterior deck area for seating and relaxation. The roof deck had to achieve a 1 hour fire rating and this was accomplished by adding a 3Ž4" topping of Maxxon Dek C-ment to existing wood substrate. This was followed by slope to drain Elastizell Lightweight Concrete and stepped EPS for required positive slope drainage. Then a layer Leak detection material was attached to the Elastizell followed by a 1Ž4" cement cover board. This was the requirement for the Hot Rubber waterproofing needed next. All this was then covered with Pedestal Pavers for Roof Plaza. This Lightweight Insulating Roof Deck project utilized multiple divisons of Cell-Crete and was completed on time as scheduled.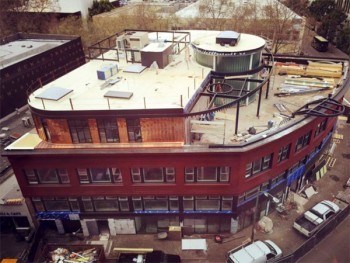 Agua Caliente Spa Resort Casino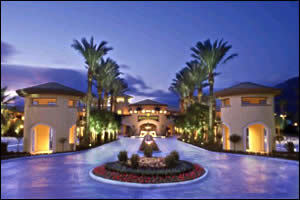 Client: PENTA Building Group / Commercial Roofers
Location: Agua Caliente Spa Resort Casino, Palm Springs, California

Square Footage: 131,000
Situated on nine acres in the heart of beautiful and historical downtown Pal Springs, California, Agua Caliente is the only full-service resort offering casino, spa and hotel amenities. The renovation of the casino and resort called for the installation of Elastizell insulating concrete over 4" EPS board creating an R-19 insulation value over 1-1/2" metal deck.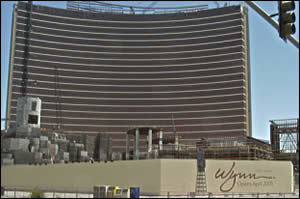 Client:Marnell Corrao Associates, Inc.
Location: Wynn Resort (formerly La Reve), Las Vegas, Nevada

Square Footage: 900,000
Packed with a nightclub; lake; 110,000 square foot casino; 18 restaurants; golf course; and an on-site, full-service Ferrari and Maserati dealership, Wynn Resort is going to be the crème de la crème of the Las Vegas strip! As part of this monstrous construction fete, Cell-Crete installed Elastizell Insulating Concrete over EPS board creating an R-19 insulation value over sloped metal deck over approximately 900,000 square feet and pumped the 56 story tower. What makes this job especially unique is that it holds the West Coast height record for jobs using Elastizell! Due to the size and volume that this job encompassed, at times, Cell-Crete provided 3 separate crews and equipment to keep up with the fast paced schedule that the project demanded.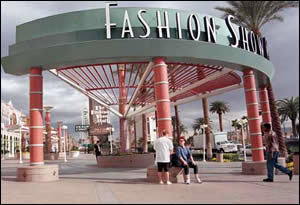 Client:Commercial Roofers
Location: Fashion Show Mall East, Las Vegas, Nevada

Square Footage: Approximately 29,000
One of the nation's largest shopping centers and Las Vegas' premier retail destination, Fashion Show Mall offers 7 classy department stores including Saks 5 th Avenue, Dillards, and Neiman Marcus on top of 250 extraordinary shops and restaurants. This classy mall received installation of Elastizell Insulating Concrete over 4" EPS at the low and high roofs' 1-1/2" metal deck. 

Client: Dick Pacific Ghemm JV
Location: US Army, Ft. Wainwright, Alaska

Square Footage: 188,000
In Fort Wainwright, Alaska, home of the United States Army Garrison and units of the United States Army Alaska (USARAK), Zonolite Insulating Concrete System with specified fibers was poured over an interstitial metal deck floor for fire rating. Our crew mobilized themselves and equipment from Southern California all the way to Alaska, worked in below freezing conditions, and finished the job to the specifications of the customer. 

Client: Perini Building Company

Location: Palms Casino and Resort, Las Vegas, Nevada

Square Footage: 66,300
This Vegas-meets-Palm Beach resort and casino has attracted high reviews with its comfortable rooms, hip Ghost bar, and friendly service all around. This party-central casino and resort received Zonolite Insulating Concrete over EPS Board and crickets to its' roof top. 

Client:McCarthy Building Company
Location: Kodak Theater ("Home of the Emmys") Hollywood & Highland, Hollywood, California

Square Footage: 127,000
If entertainment is what you are looking for in Hollywood, California, this is the place! Hollywood and Highland's visitors boast that their bowling alley, nightclub, grand ballroom catered by Wolfgang Puck and new state of the art Mann Chinese 6 theaters provide hours of entertainment in the heart of Hollywood. This was a mixed-use project combining the new retail areas and several ballrooms, one which houses the Academy Awards. It is also tied to the subway and is a very large profile building in the L.A. area. The project is sloped in the structure with Elastizell. In addition, Cell-Crete poured the hotel next door for Matt Construction. In order to execute this project, a crane was used to lift the rig up and onto the roof.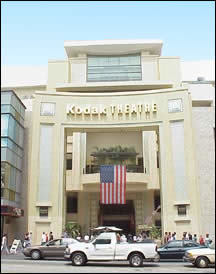 Bellagio Hotel and Casino

Client: Marnell Corrao Associates, Inc.

Location: Bellagio Spa Low Rise

Square Footage: 146,000

This 925 luxurious room and suite tower addition, will soon feature an expansion of the resort's elegant spa and salon, additional meeting and convention space, added retail and a casually elegant restaurant, Sensi. Cell-Crete aided in this expansion by installing Elastizell insulating concrete 200 PSI over EPS board to create an R-19 insulation value over sloped metal deck with fiber mesh for a two-hour fire rating.